It might be strange, it might seem weird and it might be everything but understandable for regular people. Yet it is felt around the world every day: The love a passionate DIYer has for his favorite tool. A relationship forged in numerous projects. An undying unity that stems from bloodletting, scars, failure and ultimately – greatness. For autumn 2019, we honored this relationship in German DIY store chain HORNBACH's first move towards a real love story. A campaign as an ode to the love between a DIYer and his tool. In all its whimsical glory and goofball oddness.

Created at HEIMAT, Berlin.
Director: Pep Bosch
Film Production: trigger happy productions
Photographer: Daniel Gebhart de Koekkoek





The life of the everyday DIYer is full of duties that keep him from doing what he loves: Working on his projects. But there is one last bastion of working. A crack in the busy life everyone has to lead. But it is reserved only to those brave enough to go there: The morning. While the sun is born anew, the quiet and lonesome DIYer finishes his project in eternal calmness, away from all the stress. And this is exactly how we chose to show it. As a quiet fortress of serenity in a world that is getting more and more restless.

Created at HEIMAT, Berlin.
Director: Stuart McIntyre
Film Production: ANORAK Film
Photographer: Kai-Uwe Gundlach



The lines translate to:
Inertia is best fought with a hammer.

So young the hour. So eternal your action.

Where will you be when the sun rises?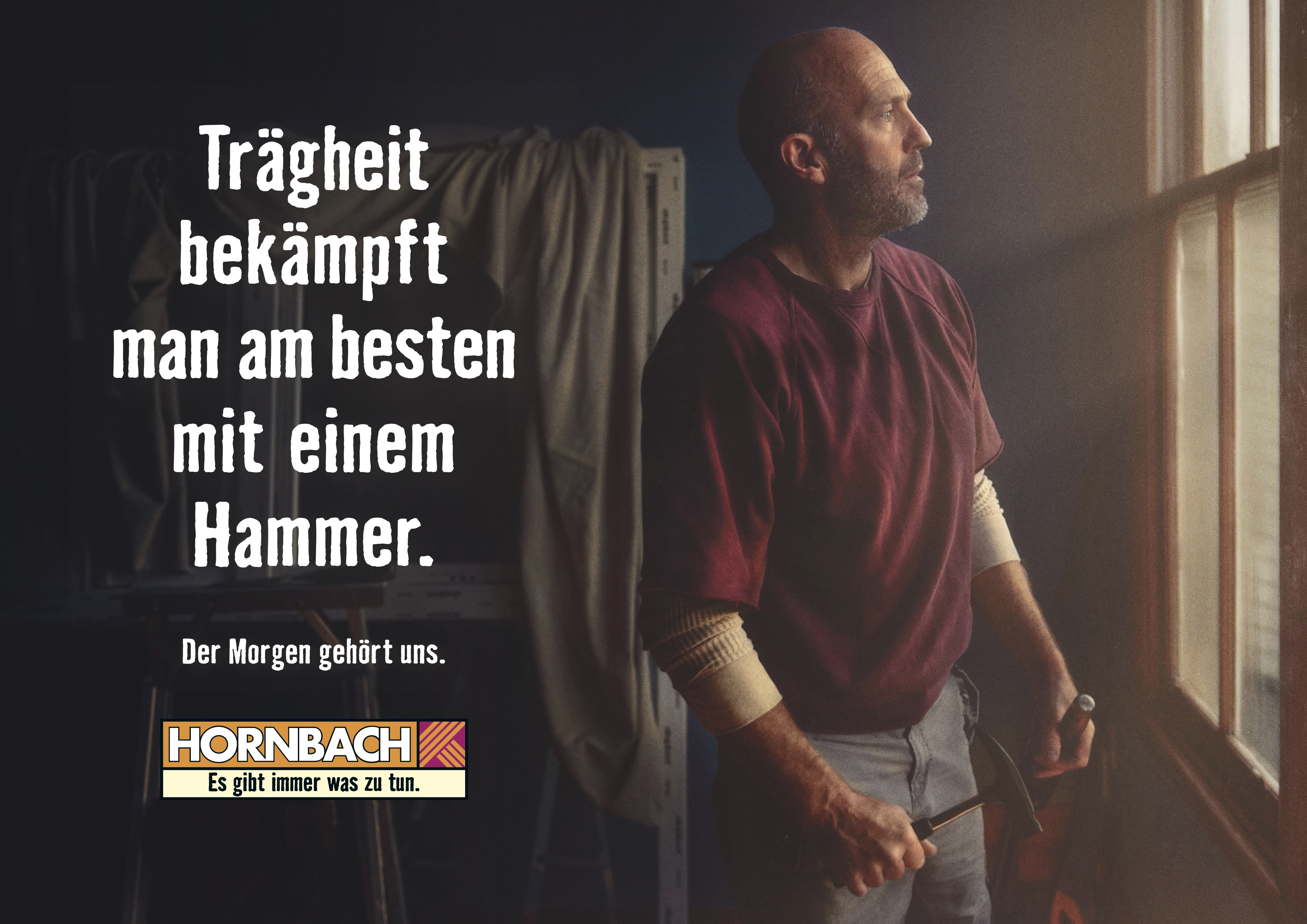 Our society has forgotten how the real world smells. Cheap perfumes, bad deodorants and constant artificial smells are used to cover the stench of the everyday. That stems from pollution, overproduction and digitalization. But there is hope: In your garden. Right when our world is born anew, it elicits the smell of gardening projects, creativity and madness. This is HORNBACH's smell of spring. A counter-attack on the pungent smell of dystopian megacities.

Launched in the most important time for DIY-stores, the campaign put its very own twist on the smell everyone knows. We staged the odeur of gardening projects as a rare good in a TV-commerical. While in print, we showed the allure of the born-again nature.

Created at HEIMAT, Berlin.
Director: Sam Hibbard
Film Production: ANORAK Film
Photographer: Kai-Uwe Gundlach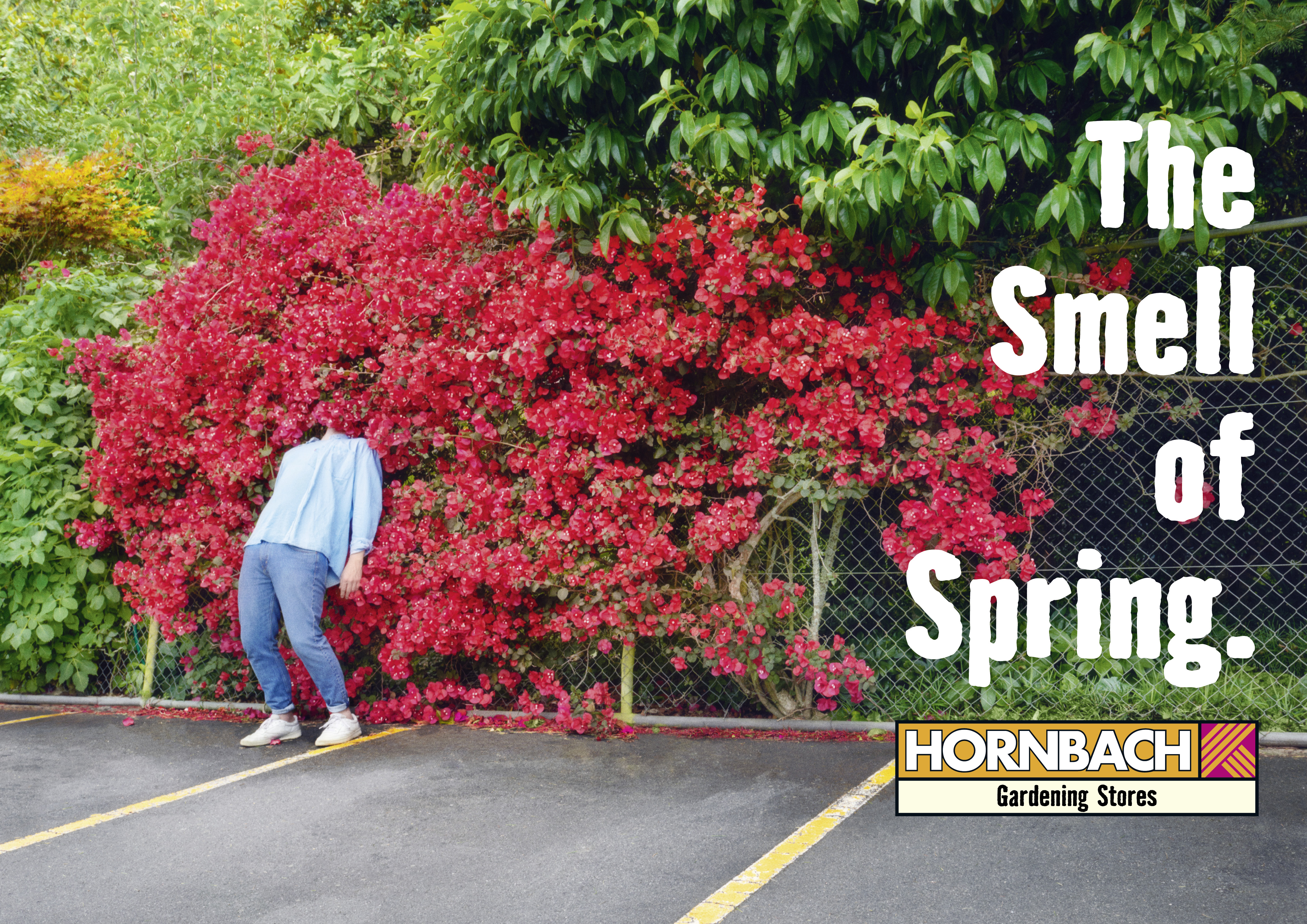 What will you make of your toilet?

HORNBACH has always been a brand that encourages its customers to think beyond conventions. That also applies for the toilet. With "Room of Silence", we wanted to show that the toilet is way more than an off-white, strictly functional place of shame. And by that, made HORNBACH's toilet range come alive in a never-before-seen way.

Initially planned as an event, the campaign quickly grew into way more. With an Out-of-Home campaign showing people right after their relief on the toilet, inspirational videos and construction manuals.

Created at HEIMAT, Berlin.
Architecture: m-box Berlin
Photographer: Kai-Uwe Gundlach



The lines translate to:
"When was the last time you talked about your toilet?"

"You alone, your thoughts and your toilet."

"An altar for your toilet visit."


A kid's book against ocean waste. Made from ocean waste.

Our oceans are drowning in plastic. If we don't act, their flora and fauna will change profoundly and ultimately die. This affects all of us. But the ones most affected are the ones we deem most precious: Kids.

To give them the power for change and to reverse this lethal development, we developed The Ocean Plastic Books together with NGO Waste Free Oceans. The book is made entirely from recycled ocean plastic. It tells the story of Pippa: A brave little girl that gets to live her dream, dives deep into the ocean and meets all the ocean animals. Only to find out that they can't swim: Because of plastic. But Pippa frees them from the plastic and becomes the Queen Of The Ocean.

The story can be experienced online:
http://theoceanplasticbook.com/

The books and the film was completed with the help of these amazing and dedicated creatives: illustrator Chervelle Fryer, film-maker Thilo Gundelach and still life-photographer Luisa Hanika.

Created in unholy alliance with the ever awesome Stefan Wittemann as a freelance team in cooperation with Jung von Matt.




MICHAEL MARIA MORGENBESSER
WORDWORKER
BERLIN, DEUTSCHLAND.